It will take some pretty big tennis shoes to fill the void that the tennis community will experience with the retirement of Roger Federer. Roger announced his retirement from professional tennis almost two weeks ago, on September 15, 2022. Although it wasn't a complete surprise, Roger has been absent from center court for some time, it still came as somber news to his loyal fans. The Swiss tennis pro posted a video message on social media expressing his love for the game, fans, friends, and his family. He expressed how he had played more than 1,500 matches over 24 years but that his body was no longer able to compete on a professional level.
Roger has been battling a variety of injuries, particularly his right knee. He's had three surgeries during the past 18 months,  followed by bouts of rest and extensive rehabilitation. Nicknamed the 'Swiss Maestro', Roger's effortless strokes are compared to a conductor who gracefully waves his baton creating a magnificent symphony. Without question, Roger is one of the most iconic tennis players in the world.
The Tennis Shoes of a G.O.A.T.
Off the court, he applies that same passion and dedication. He is married to Mirka Federer, a former tennis player. The couple met in 2000 during the Summer Olympics. They were married in 2009 and have two sets of identical twins. Their girls are 13, and their boys are eight.  Roger also spends time growing the Roger Federer Foundation, which helps children in poverty-stricken areas, such as Africa, by focusing on education and healthcare.
Roger's Gear and Grind
Why would anyone want to "Be Like Mike" when they can "Play like Roger"?  Throughout his 24-year career, Roger has played with a Wilson tennis racquet.  While he started off playing with an 85-square-inch racquet head, he changed up his string patterns to give himself more power.  He has played with Wilson's Champions Choice strings, which features a half set of Wilson Natural Gut and a half set of Luxilon Alu Power Rough 16L. Over the years he has transitioned to a 90-square-inch racquet. He ended his career with Wilson's most popular racquet in his hand, Version 13.0 of the Pro Staff RF97.
Last Match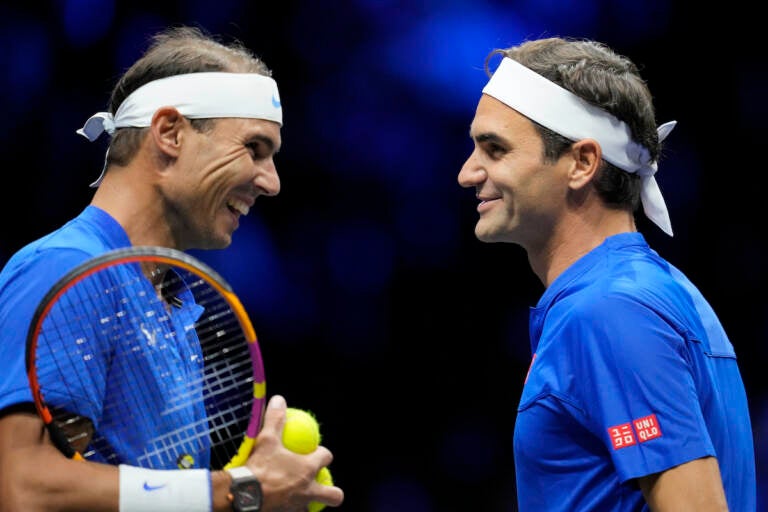 Roger played his last professional match on Friday, September 23 at the Laver Cup, held in London. He played doubles with his friend and on-court rival, Rafael Nadal. Although they lost in a third-set tiebreak, there were plenty of cheers and a few good-bye tears by fellow Team Europe players including Novak Djokovic, Casper Ruud, and Andy Murray.  Team World players Frances Tiafoe, Taylor Fritz, and Felix Auger-Aliassime were among several players that congratulated Roger for a job well done.
Coincidentally, Roger lost his debut match in straight sets in July 1998, but that didn't stop him to go on to do great things. Undoubtedly, Roger Federer will leave some big tennis shoes to fill on the court, but will always have a special place in our hearts.
Stay up-to-date on the next generation of players at TennisExpress.com.
---
For More: