When all else fails, go back to the basics in style with Nike tennis apparel.
If you are anything like me then one of your New Year's Resolutions was to step up your game. But here we are three months into the new year and I'm waiting for the weather to warm up, the days to get a little longer, and maybe, just maybe, a little inspiration.  That's where the new Nike basics come into play.  They have sparked a renewed energy and encouraged me to go back to the basics, beginning with some new training clothes.
Nike Basics
The iconic Nike swoosh is not just a symbol, it's a statement that screams, "Just do it".  Embracing that attitude, the Nike basics were skillfully designed to help you train better than ever.  They used a neutral pallet so that you could mix and match the most common colors such as black, blue, gray, white, and navy.  They also expanded the garment collection to include an assortment of apparel for both men and women.  Tennis tops, tanks, shorts, and skirts complement each other in this collection, and there are a variety of accessories, including hats, jackets, sports bras, and hoodies.
Take for example the Nike Men's Court Dri-FIT Advantage Tennis Polo. This polo has a 2-button placket with a compressed collar. It also has a slimmer fit to reduce distractions and underarm gussets that afford you some wiggle room. This polo pairs perfectly with the Nike Men's Court Dri-FIT Advantage Shorts.  These shorts come in both a 7-inch and 9-inch inseam and have deeper pockets to hold a practice tennis ball or two. They have great flexibility and breathability.  Don't forget to grab a Nike Court AeroBill Advantage Tennis Cap, great for shielding your face from the sun or keeping your hair in place while you are setting up to smash an overhead.
The Nike Women`s Dri-FIT Legend Training T-Shirt is ideal for any type of workout, especially for drills. This tennis tee has a ribbed crew neck and a relaxed fit. Really, this t-shirt should be a wardrobe staple. It goes nicely with the Nike Dry Tempo Running Shorts and the Nike Women's Court Dri-FIT Victory Tennis Shorts. Both the tee and shorts are made from lightweight material and have a lot of give so you can go straight to the ball.
Extraordinary Features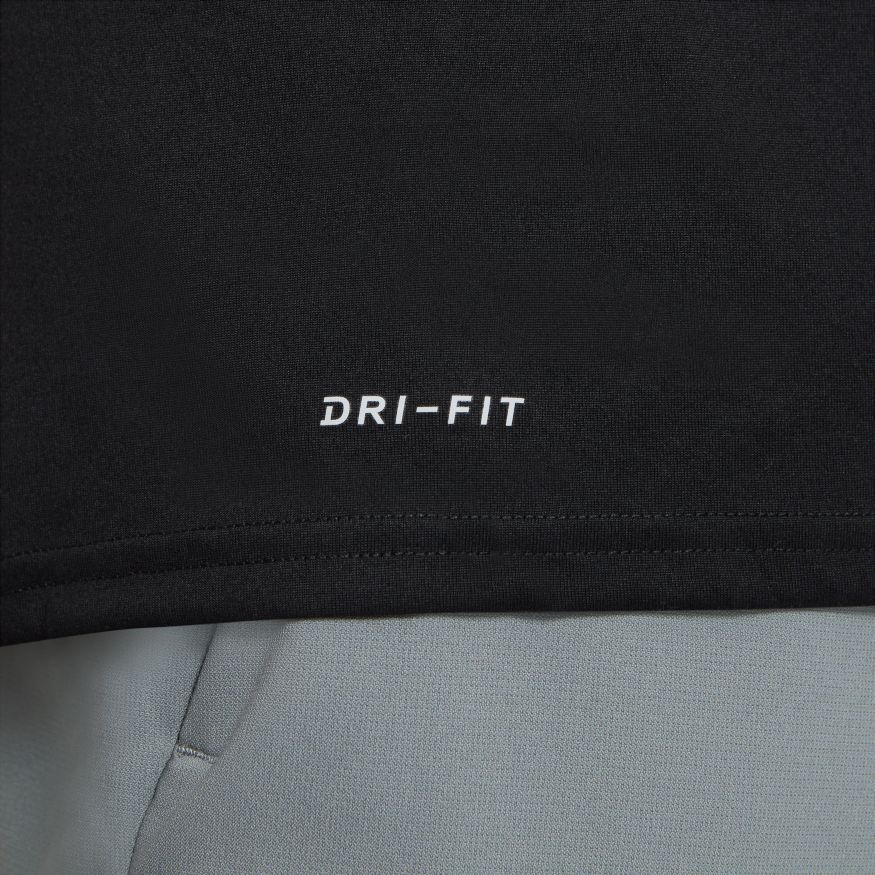 Naturally, training apparel should be comfortable and give you a good range of motion. It should also be equipped with functionality. Nike knows best when it comes to creating moisture-wicking apparel that helps keep you in the game.  Many of the basic items are made with 100% Polyester and feature Dri-FIT technology, a high-performance, microfiber fabric that moves sweat away from the body and to the fabric surface, where it can then evaporate.
In addition to keeping you comfortable, training apparel should be durable. Following a vigorous workout is typically a healthy wash cycle.  Nike delivers in this department as many of its pieces feature double-stitched seams and quality craftsmanship.  They offer a variety of sizes including extra-small, small, medium, large, extra-large, and double extra-large on select apparel.
Train Like the Pros
Some of the biggest legends on the court today wear Nike including ATP pro-Rafael Nadal, Andrey Rublev, and Frances Tiafoe. On the WTA side, we see Naomi Osaka, Bianca Andreescu, and newcomer Emma Raducanu, all sporting Nike logos. You might not play like these pros, yet, but you can find the same inspiration in the clothes they are wearing.  Best of all, these Nike basics are very reasonably priced.
Regardless if you want to transition from a two-handed backhand to a one or disguise your drop shot, the best place to start is in the new Nike basics at TennisExpress.com.
---
For More: