Palm Canyon Drive might be the Rodeo Drive of the desert, but the real tennis fashions will be found 15 miles away at the Indian Wells Masters. Loaded with personality, this year's tennis apparel is full of bright and bold colors. Manufacturers are on the precipice of design styles that blends texture, fabrics, and technology to create must-have tennis fashions. 
Several collections will debut on the best tennis professionals in the world. Nicknamed the Indian Wells Open and sometimes called the BNP Paribas Open, we can expect to see the top athletes from the ATP Tour including Taylor Fritz, Carlos Alcaraz, and Stefanos Tsitsipas. Three-time Indian Wells Champion Rafael Nadal is will not compete in this Masters 1,000 series due to an injury.
Headliners from the WTA Tour are Iga Swiatek, Coco Gauff, Ons Jabeur, and recent 2023 AO women's singles winner Aryna Sabalenka.  Also vying for the women's singles title will be Caroline Garcia, Paula Badosa, and Bianca Andreescu. But don't count out Maria Sakkari. She is playing some of the best tennis of her career and is looking for another shot at the title after losing in last year's final to Swiatek.
ATP Tennis Fashions
Anticipate seeing flashy colors on the men during this steamy competition. Designers are gravitating towards dominating colors this season. They are using edgy patterns and mesmerizing concepts.
For example, pros like Alexander Zverev and Felix Auger-Aliassime that endorse Adidas will be wearing tennis apparel with hues of blue and green. Some of their shirts and short combos will be a concoction of colors. Other pieces will be solid, however, they will be paired with a motley of materials. Adidas is also making some reversible pieces. Both the men's and women's jackets will do an about-face, and be worn based on a player's mood.
Rafa would have been decked out in Nike gear from his signature Rafa collection. He was going to wear a pale green v-neck along with traditional white shorts. Meanwhile, Grigor Dimitrov will play in teal Nike shorts and rotate between a pink or purple shirt that has a hybrid neckline. That's right, it has the look of a standard V-neck, but the feel and comfort of a crew.
New Balance will launch a new line appealing to players at the 'Sunshine Slams'.  Their colors will include vibrant orange, optimistic yellow, and an illustrious purple.  Lacoste will also showcase some fashion-forward pieces as players chase down the title. Still, Fila, Lotto, and K-Swiss are not out of the mix. They too will sport runway-worthy apparel on some of your favorite pros.
Tennis Fashions for WTA Pros
The women will be overflowing with style at the BNP. Dressed in spring colorways, ladies that endorse Adidas, like Jessica Pegula, will be wearing items from the new Marimekko Collection. These pieces are a collaboration of Adidas' name and quality with the iconic 1960's designer, Marimekko. They are lightweight, imaginative, and have a simple, yet very audacious arrangement.
Athletes that endorse Nike, such as Maidson Keys and Sloane Stephens, will be rocking two different collections. Some pros will wear the new Heritage Collection, while others will wear items from the Victory Collection. Both are assembled with Nike's quality and new-age technology.
In fact, many of the flirty fashions that will parade onto the courts will be chockablock full of the technologies every athlete loves. Some of these features are moisture-wicking, stretch and ultra-soft fabrics, anti-odor, and sun protection. High-performance tennis clothing washes and wears better than traditional sports outfits and is worth the nominal investment.
Know Before you GO to Indian Wells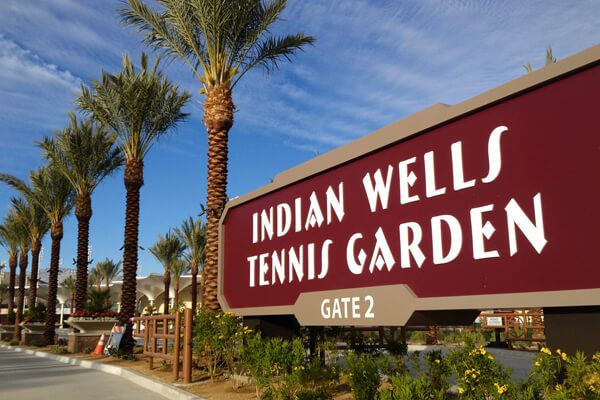 Planning a trip to the BNP?  Here are a few basics to help you have a great experience.
Indian Wells Tennis Garden has a Clear Bag Policy. With safety at the forefront of everyone's mind, they will require spectators entering the venue to do so carrying one clear bag, not larger than 12" x 6" x 12". Essentially, a one-gallon clear plastic freezer bag size or smaller. In addition, guests may also carry in a small clutch bag or purse no larger than 4.5″ x 6.5".
Visiting fans will enjoy an assortment of flavors. Besides a tantalizing beer garden and some grab-and-go bites, there are a few sit-down restaurants.  Ristorante Mamma Gina and Fresh Agave Mexican Bar and Grill offer delectable dining. For those who want an unforgettable experience, make a reservation at Nobu and eat exquisitely while watching on-court action from the upper sidelines of Stadium 2.
Lastly, there are 29 courts, with many of them open seating. All-day passes will get you in and the earlier you arrived, the better your seats will be. Between matches, check out 6 practice courts and the full-size soccer field tucked near the back of the massive complex. These areas are great to get a glimpse of your favorite pro player in a more casual training environment.
Going for the title won't be easy, nonetheless, it will be done in style!  Check out the best tennis fashions today at TennisExpress.com!