Wimbledon is underway and the trophy is up for grabs, or is it?
Ask any tennis enthusiast who they predict will be in the Men's ATP Singles Finals, and they will give you two names Novak Djokovic and Carlos Alcaraz.  But these two wildly talented men will have a lot standing between them and Championship Sunday. Besides past injuries, they will go up against seasoned players like Stefanos Tsitsipas, Alexander Zverev, Stan Wawrinka, and Daniil Medvedev (pictured below).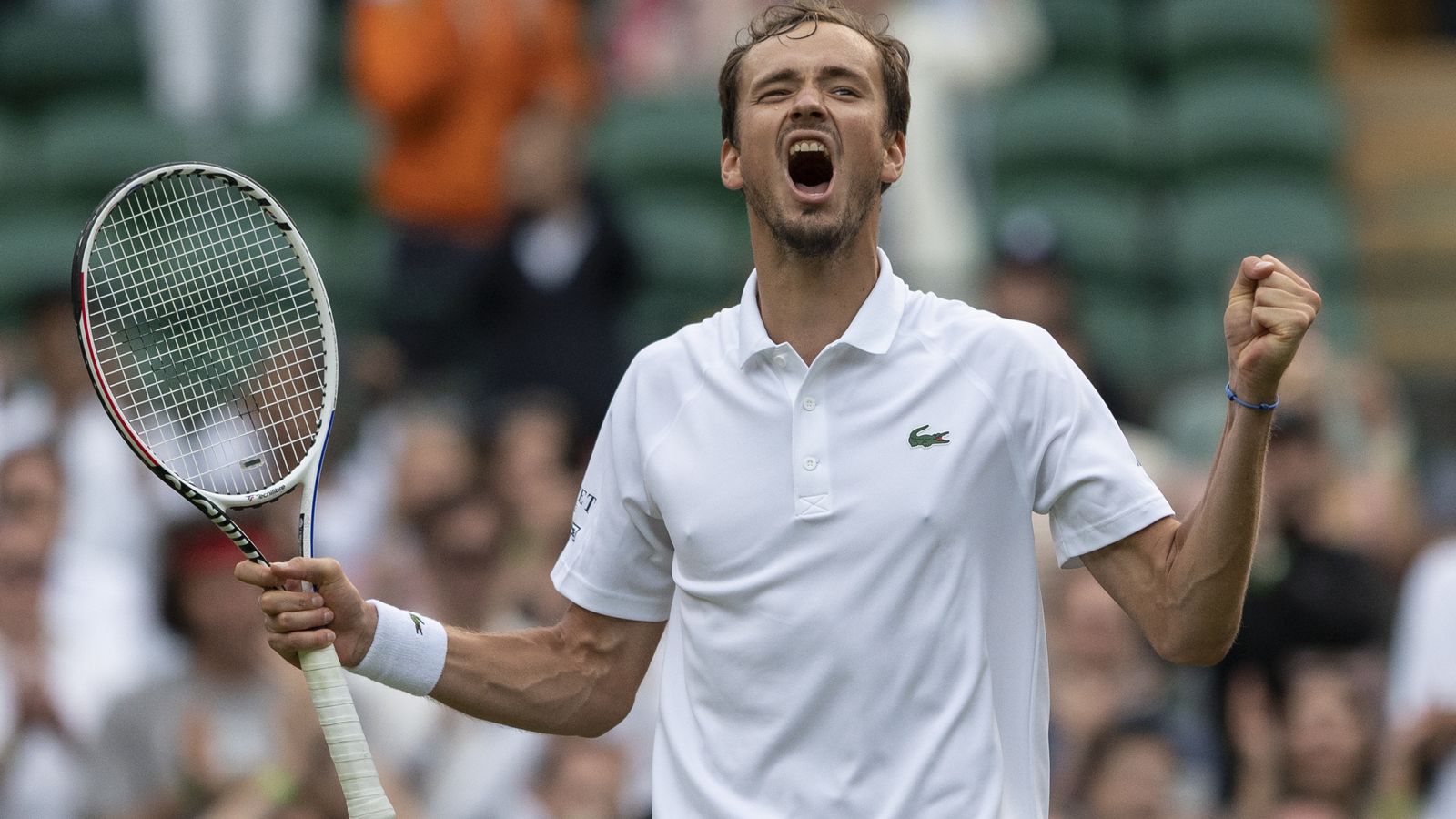 Daniil is currently ranked No. 3, seeded No. 3, and has 20 titles to his name, of which only one was won on grass. To say he's playing with a purpose would be an understatement. Daniil is on a mission to make it to the quarter-finals and set a new personal best at Wimbledon.
Of course, there are a few frontrunners on the women's side. These include this years French Open champion Iga Swiatek (pictured below) who is seeded No. 1, Australian Open title holder Aryna Sabalenka seeded No. 2, and last year's defending champion Elena Rybakina who ironically is seeded No. 3.
But grass courts are an equalizer. The ball moves quicker, sits lower, and is less predictable when it bounces. This surface favors players who have power shots and can move fast, which means victory is up for grabs.
Men's Outlook at Wimbledon
Novak is coming off some great recent wins, including this years Australian Open and the French Open. He's also ready to defend last year's Wimbledon title and will be playing with a great deal of confidence. Carlos on the other hand, has nothing to lose. Although they are on opposite sides of the draw, they've have quite a few hurdles to jump in order to meet in the finals.
Among the giants Carolos could face are Ugo Humbert, Matteo Berrettini, and Milos Raonic. 
Novak would have to defeat Andrey Rublev or Hubert Hurkacz to get the quarter finals, and both are keep a pulse on some up and comer's like Casper Ruud (pictured below), Holger Rune, and Jannik Sinner.
From across the pond, 13 American male pros including Frances Tiafoe, Tommy Paul, John Isner, Christopher Eubanks, Ben Shelton, Sebastian Korda, and Taylor Fritz are looking to become the first American players to win Wimbledon since 2000.
Women's Scenarios
Arguably the odds on the WTA-side point to Iga as the best bet. However, there are a few ladies that are overdo a grass-court title. These include Maria Sakkari, Petra Kvitova, Barbora Krejcikova, and Belinda Bencic (pictured below).
American women are also seeking the opportunity to play in front of the Royal Box. After all, it's been seven years since American superstar Serena Williams won the prestigious Grand Slam.
Among the 19 female contenders are Danielle Collins, Jessica Pegula, Alycia Parks, and Madison Keys who recently won the Rothesay International, also on grass. Sofia Kenin defeated Coco Gauff and Shelby Rogers, Peyton Stearns, and Caty McNally were eliminated in the first round.
Fashion Forecast for Wimbledon
While its true Wimbledon is the oldest tennis tournaments in the world and has a long-list of traditions, the All England Club is making a minor adjustment to the all-white dress code for the first time in tournament history. Female players are now permitted to wear dark-colored undershorts. This change was adopted to accommodate women who might feel contentious about playing during their menstrual cycle.  The undershorts cannot be longer than a players skirts or tennis shorts, and any shades of off-white or ivory is still strictly forbidden.
The only bit of color permitted on a players outfit is a single trim, measuring one centimeter or less, and located on the neckline or sleeve. Manufactures are getting surprisingly creative as they follow the rigid Wimbledon tennis apparel guidelines.
For example adidas is added an intricate pattern and tiny green strip to their Men's AeroReady FreeLift Tennis Polo (pictured below).
Likewise, Fila infused some texture to their collection dubbed 'Whiteline'. Take for example the Fila Women's Lasercut tennis skort (pictured below). It has petals etched around the hemline and is loaded with some amazing features like moisture-wicking, 4-way stretch, and UPF sun protection.
But Nike wins the fashion prize when it comes to taking shoes and apparel to a whole new level. The American sportwear brand redesigned the Nike Men's Air Zoom Court NXT (pictured below) to incorporate subtle hints of Wimbledon. These shoes are about as decked out as you can get and worn by the best pros in the world. They are sure to put a bigger, better, bounce in your step, and expected to sell incredibly fast.
Stay tune for more pro player updates and find your favorite Wimbledon gear at TennisExpress.com!
---
For More: