Dunlop Sport is a brand famous for its racquet sports expertise. This company has honed its tennis supplies and equipment to match the quality of some of the most reputable brands in the world. The Dunlop racquet line has been revamped in 2018 with Srixon technology, who has been a primary player in the golfing industry. Tour players Kevin Anderson, and Agnieszka Radwanska are sporting new frames this year, but Dunlop's tradition of excellence goes back many years. The classic 200G frames were used by Steffi Graf, and Tommy Haas. Hotmelt made the racquets more stable and powerful, while the M-fil technology improved the feel and flex. The future is looking bright for Dunlop Srixon and they are continuing to build their brand. Below is a list of Dunlop Sports technologies.
Aero Boost, Aeroskin CX, BioFibre, Blast Zones, Box Frame, Heat Convert, HM6 Carbon, iDapt, MoS2 Grommets, Peak Shifter Frame, Power Grid String Tech, Sonic Core with Infinergy, Spin Boost Grommets, Straight String System, and Synchro Charge System.
Aero Boost

Revolutionary seamless grommet system that fuses high speed aerodynamics with piston like power.
Upon impact, bridge like structures under the string deforms cushioning impact. Combined with the oversized grommet holes this increases dwell time and feel. The elastic bridge also enables the string bed to rebound forward generating greater ball speed and spin.
---
Aeroskin CX
Aeroskin was inspired by the skin of the most highly evolved marine predator, the shark. Its streamlined body is covered in microscopic riblets which create localized turbulence which in turn reduce drag. This allows the shark to slice through the water with more speed and strike with more power. Like the shark, Aeroskin uses a unique textured skin strategically applied to the surface of the racket which helps to smooth airflow around the racket to reduce aerodynamic drag. This makes the racket quicker through the air to generate enhanced power, improved maneuverability and allow faster reaction time.
Dunlop has taken the concept of low drag surface texturing to a new level with Aeroskin CX. The CX's smooth turbulent air reduces drag by up to 36% to provide greater racket head speed for more penetrative shot making.
---
BioFibre
Stronger than steel and lighter than carbon, Dunlop has extracted the stem fibres from plants and woven them into the shaft portion of the racket. On ball impact this natural fibrous structure actively filters shockwaves by 18% to provide a cleaner more solid hit than conventional all composite construction.

---
Blast Zones
Blast Zones are placed at strategic places around the frame: 12 O'Clock, 10 & 2 O'Clock, and 3 & 9 O'Clock. Whether you're looking to add pure power, increase your racquets sweetspot, or increase stability, the safe and non-toxic silicone based Blast Zone weights make it easy to tune your racquet to your specific needs. These Blast Strips are pre-cut and measured for either 2 or 3 grams per strip making customizing the weight and balance of your racquet much easier than if you were using lead tape or tungsten.

---
Box Frame
The modern aero dynamic shape of the new CX racquet line enables more frame compression thanks to the thinner front edge, for a larger sweet spot. The box design features sharper angles and cuts through the air faster for cleaner ball striking.
---
Heat Convert
Heat Convert technology enables players to hit a more precise shot. You will get a cleaner contact feeling with the ball thanks to thermal energy conversion technology. This helps reduce the number of bad vibrations without increasing the frame's weight or strength.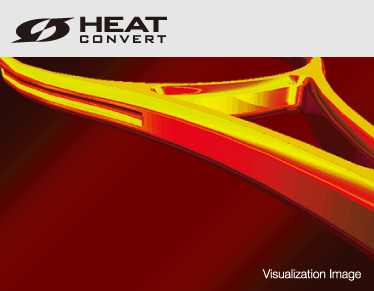 ---
HM6 Carbon
HM6 is inspired by one of the strongest most efficient structures in nature, Honeycomb. Its complex mass of hexagonal cells creates an incredible strong lightweight structure that's up to 95% air to naturally absorb impacts whilst maintaining its shape. Using a revolutionary new manufacturing process, Dunlop has taken high modulus carbon fibres and engineered them into a hexagonal structure. The HM6 Carbon material is placed between layers of Aerogel enhanced carbon to create an incredibly stable construction. HM6 Carbon is so effective because a hexagon is made up of 6 equal sides. When this construction is applied to a racket it means the unwanted racket frequencies are absorbed and distributed evenly, giving enhanced racket feel and minimal energy loss which equals maximum energy return.
HM6 Carbon reduces racket frequency and vibration by up to 10%* for ultimate energy return and feel.

---
iDapt

There are millions of tennis players, but only one you. iDapt technology lets you choose the racquet that's right for your game, giving you the ability to create any one of hundreds of variations to maximize your performance. You can customize each part of your racquet to fit your playing style. You can choose your perfect head size, string pattern, shock absorption, and racquet length.
---
MoS2 Grommets
Inspired by the wear resistant self lubricating properties of snake skin, Dunlop has engineered a revolutionary new polymer featuring a microscopic lubricant MoS2. This increases grommet durability by 40% and reduces string friction by 27% delivering more string movement for enhanced power and spin.

---
Peak Shifter Frame
Peak shifter frame technology enables players to strike deeper, more penetrating shots on the court. You will get more control and spin thanks to the multi-dimensional frame geometry.
---
Power Grid String Tech
The modern game of tennis demands spin and power. More shots are hit higher on the racquet face, and this can lead to errors and injuries. The Power Grid String Tech increases the sweet spot by 30%, and evenly distributes power across the string bed for improved access to control, power and spin.
---
Sonic Core with Infinergy
Sonic Core technology was added to the first batch of Dunlop Srixon racquets in 2017. This premium silicone-based EVA material is in keys areas of the frame to allow for more power and comfort. This material is highly elastic and has great rebound properties making it easier for players to get the ball back. When the ball hits the strings on the racquet, the strings will compress then amplify and return greater force to the ball allowing for more powerful shots. In addition this technology reduces frame vibrations so your racquet can feel more comfortable when you hit.
In 2018, Dunlop Srixon have updated Sonic Core to include Infinergy to better enhance their frames. The update dampens impact shock and minimalizes frame vibration by up to 37% to help improve the feel of hitting the ball. Infinergy is a foam developed by BASF, and is the world's first expanded thermoplastic polyurethane. It offers improved rebound properties compared to the original Sonic Core technology.
---
Spin Boost Grommets
Found in the SX series racquets, SPIN BOOST Grommets allow for more string movement, but in specific directions to keep from losing control. The tech makes off center hits have more spin, with greater trajectory for improved consistency.
---
Straight String System
Straight String system allows players to get even more power out of their racquet. The parallel drill holes and strings create a larger hitting area which allows you to play with more power, spin and feel.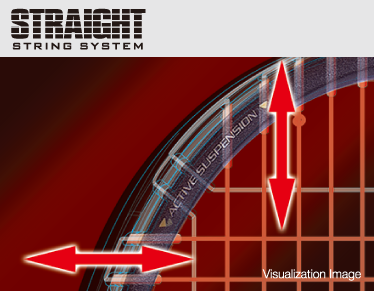 ---
Synchro Charge System
Players will get a crisper and cleaner shot every time they hit thanks to Synchro Charge System. This will reduce the vibrations on your shots and give you greater stability on any off-center strikes thanks to the high-elasticity carbon construction.