HEAD® was founded by Howard Head in 1950. He was the first engineer of metal skis which quickly rose to prominence in the United States. After revolutionizing the ski business, Head turned his innovative mindset towards tennis and designed an aluminum-frame tennis racquet. Head is now headquartered in Europe, and approximately 30% of top 100 ATP players endorse the brand. Notable stars include Andy Murray, Novak Djokovic, Maria Sharapova, Marin Cilic, Tomas Berdych and Sloane Stephens.
Here are a list of the technologies that we currently have information for: Adaptive Racquets and String Patterns, Flexpoint™, Graphene 360+, Liquidmetal®, MicroGel, MXG, 360 Spin Grommets and YouTek.
Adaptive Racquets and String Patterns
The Speed and Instinct Adaptive racquets came in 2016 giving players an option to personalize their own frame. These specialized racquets came with a pre-installed light 16/19 string pattern and standard length, but there were separate adaptive tuning kits that allowed for customization. The kits provided three additional grommet sets (consisting of a heavier 16/19 pattern as well as a light and heavy 16/16 pattern for more spin), three spacer rings for additional length, and an additional end cap to increase the weight in the handle and make the racquet more evenly balanced if needed.
---
Flexpoint Technology
Traditional design has typically made racquets stiffer and stiffer. Thats fine for power — but what good is all the power in the world if you can't control the ball? The question is: How do we harness maximum power and control it? Since the beginning of tennis, the racquet has bent in the same way on impact. Now everything has changed! Racquets with HEAD Flexpoint™ technology are the first to flex in a whole new way.
Powered by Liquidmetal®, Flexpoint™ technology is breaking the rules of traditional racquet design with two precisely engineered control holes giving the racquet a revolutionary new flexpoint. These two newly designed holes, positioned at 3 and 9 o'clock on the racquet head, work together to bring power in control. The dimple is engineered to create flexibility by reducing beam height by a maximum of 25 %. The hole increases sectional flexibility up to 50%.
Head continues to revolutionize the tennis racquet by turning traditional design upside down. Head Flexpoint is designed to make the racquet frame "flex" in multiple positions instead of the simple shaft flexibility that is currently widespread in tennis racket design. According to this leading tennis equipment manufacturer, Flexpoint technology provides a cupping motion for the ball which increases player control and a more stable feeling.
---
Graphene 360+
As we know, Graphene technology has been a very successful element in Head racquets today. Graphene started getting integrated into Head racquets back in 2013. Graphene was a new technology that was super strong and lightweight. This allowed Head to shift the weight of the racquet from the shaft towards the grip and top of the racquet head. The redistribution of weight generated more kinetic energy with less effort for improved mobility and power.
To keep up with competition and technology changes, Head created a 2nd iteration of Graphene called Graphene XT. Graphene XT focused on increasing the swingweight for more power higher in the racquet face. The tech continues the trend of shifting the weight to the poles of the racquet (grip and tip) for racquets that were 30% stronger, 20% lighter, and produce 10% more energy transfer.
The 3rd iteration of Graphene is called Graphene Touch. Head decided to add Kraibon to Graphene to allow for better shock absorption in their frames. This enables players to experience power benefits from the graphene technology with better touch and comfort.
Graphene 360 technology was first launched in 2018 with the Speed racquet line. This upgrades Graphene technology to feature strategically positioned material in the shaft that extends throughout the racquet head. It makes the frame stronger and improves stability for greater energy return. Now players can get a very comfortable response when they play with Graphene 360 frames.
HEAD continues the evolution of their Graphene technology with Graphene 360+. Graphene is embedded in the shaft and head of the racquet for greater stability and energy transfer. Spiralfibers are integrated into the shoulders of the racquet, that untwist and stretch to create more flex, and a cleaner impact feel.
---
Liquidmetal® Technology
The revolution begins with a new material never before used in modern racquet design: Liquidmetal®. HEAD revolutionizes tennis once again with Liquidmetal to change the game in every respect. Benefits are enhanced by the Total Sweetspot Construction, NoShox Dampening System and Integrated String Dampener.
The Liquidmetal material is applied to four strategic areas of the racquet's head and is the only material that utilizes all the energy your swing generates. Due to its liquid atomic structure, no energy is lost on ball impact.
---
MicroGel
This is a silicone-based material with very low density. When combined with stiffer and stronger composite fibers it's blended into a racquet with incredibly responsive attributes. At contact, MicroGel distributes the load of the impact around the frame for rock-solid feel and excellent touch.
---
MXG Technology
MXG is the fusion of Magnesium and Graphene Touch to give you a balance of power and control like no other racquet. The MXG's injection molded Magnesium Bridge is precision formed and provides ultimate stability at a very low weight. The bridge construction also uses longer main strings to enhance the size of the sweetspot and increase power.
---
360 Spin Grommets
Head utilizes larger funnel-shaped grommets at the top of the racquet head on the center 6 main strings in the Extreme racquet series. These grommets allow the main strings to move more in all directions for increased power and spin.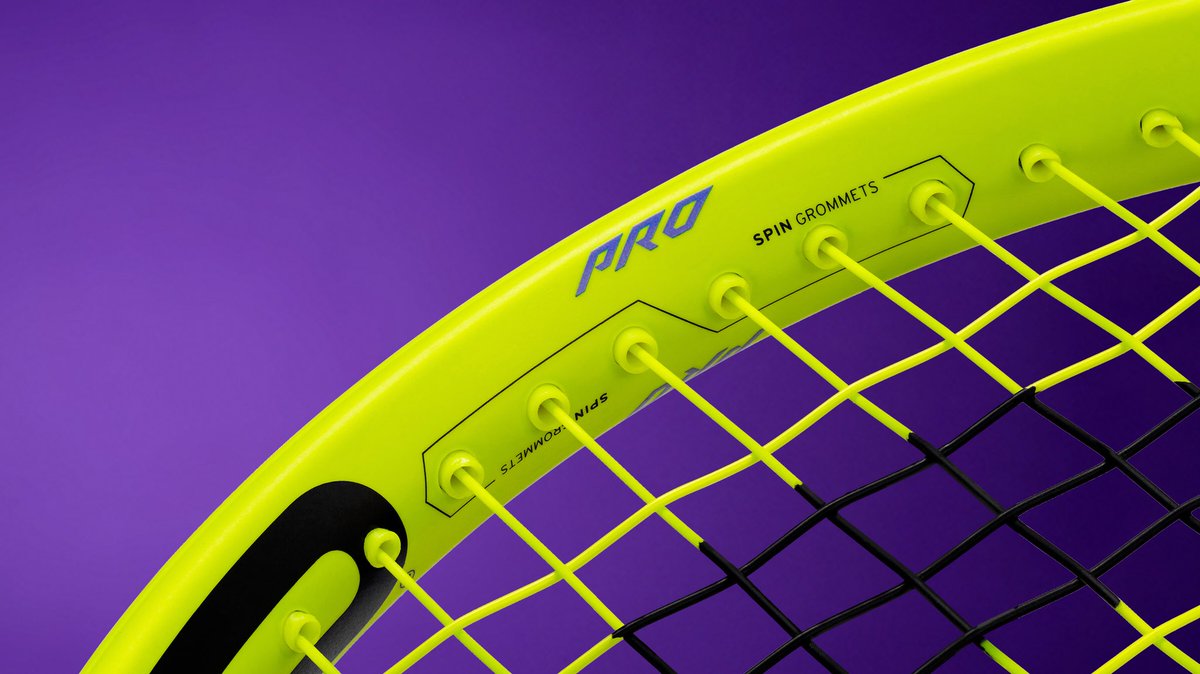 ---
YouTek Technology
Head combines superior technologies within the YouTek family to perfectly match your individual needs. Utilizing d3o a smart material which possesses abnormal behavior characteristics, more specifically under dynamic loading or impact, integrated within the lay-up and shaft of the racquet, new d3o offers players new possibilities.
d3o can sense on high-speed impacts (aggressive shots), the smart molecules lock together within nanoseconds and dramatically increase the stiffness of the whole racquet frame to provide maximum power. On slow-speed impacts (slice or drop shots), the d3o molecules absorb the impact to provide a softer touch for better feel.
Passing shots are even harder and drop shots more precise, rewarding your spontaneity and supporting your courageous decisions.