Wilson sports' dedication to innovation is perhaps best displayed by three of the most dominant tennis players ever to play tennis, Pete Sampras, Roger Federer and Serena Williams. Since the company's foundation in 1913, it has continued to be an elite manufacturer of sporting equipment across multiple industries. Athletes know and trust this brand for its excellence in developing new technologies each year. Currently Wilson has the Pro Staff, Blade, Ultra, and Burn racquet lines. Below are a list of their key contributions over the years to racquet technology.
Amplifeel 360, BLX, Countervail, FreeFlex, High Performance Carbon Fiber, Hyper Carbon, Parallel Drilling, PowerProfile, Pro Staff Next Generation, Spin Effect, StableSmart, Triad, and X2 Ergo
Amplifeel 360
Wilson first introduced Amplifeel technology in 2012 with the BLX racquet line. This technology provides a cleaner, more enhanced feel in the racquet due to BLX graphite and basalt composites. The engineered foam material and a softer butt cap help filter out any unwanted vibrations.
In 2013, Wilson took this technology to a new level introducing Amplifeel 360. Racquet handles are made entirely out of basalt rather than foam so the handle can be hollow and still provide maximum vibration dampening. This design makes the racquet 15% stronger in the lower 1/3 of the frame and stiffer allowing for more power. Additionally, the hollow handle is lighter allowing weight to be placed in other areas of the racquet for structural reinforcement. Amplifeel 360 allows for a lighter and more powerful frame with greater shock absorption: a trifecta of performance improvements for you.
---
BLX
Basalt is a natural volcanic rock used in manufacturing and made into fine and ultra fine gold fibers. Basalt fibers are environmentally friendly and superior to other fibers in terms of thermal stability, sound insulation, vibration assistance, and durability.
With the BLX racquet line debuting in 2010, Basalt fibers are woven longitudinally with [K]arophite Black to create the most advanced composite ever in the industry. Players will find the ultimate in frequency reduction while retaining the performance of carbon fiber in terms of responsiveness, stability and rigidtiy.
Basalt added into racquets filters out unwanted frequencies (i.e. vibrations) that reach the hand to deliver a clean feedback and sensation for the perfect feel.

Frame Technology

There are three BLX Frame Technologies offered in the BLX lineup. Linear Geometry: New frame technology providing up to 35% more overall stability compared to a classic beam construction. FX: A quad shaft yoke design to increase torsional stability by 23% on off-center hits. Triad: A 3-piece racket system where hoop and handle are separated with Iso-Zorb for superior comfort.

Grommet Designs
The new BLX racquets also incorporate three different grommet designs. AGT: Articulated Grommet Technology allows an extraordinary 76º string movement for maximum sweet spot (+34%). Double Hole: Bigger holes allowing 26º string movement for a bigger sweet spot. Classic: Traditional 22º string movement for classic response.

Grip
The new Wilson BLX racquets also incorporate three different Grip Designs. Comfort Hybrid (2.0mm)- An Air-Cell foam base provides the ultimate in comfort, a soft PU gives players a comfortable and tacky feel. The thick diameter gives players the ultimate cushioning. Performance Hybrid (1.8mm)- A cotton base allows a softer feel than leather yet firmer feel than foam, excellent moisture absorption. A tackified PU gives players a high performance feeling grip, and the medium thickness at 1.8mm gives all around racquet control. Pro Hybrid (1.6mm)- A leather base will transmit more feel to the player's hand, a firm PU allows for full racquet sensation. The thin diameter will allow players to get a complete feel of the racquet.
---
Countervail
Countervail is the all-new patented material integrated exclusively into Wilson frames that direct the ball's energy within the frame instead of the body. By integrating Countervail into the racquet you will expend less energy on powerful strokes, experience reduced muscle fatigue, and have a shortened recovery time. It does this through advanced dampening characteristics, which transfer less of the ball's energy into your body. The end result is enhanced control and precision in your game.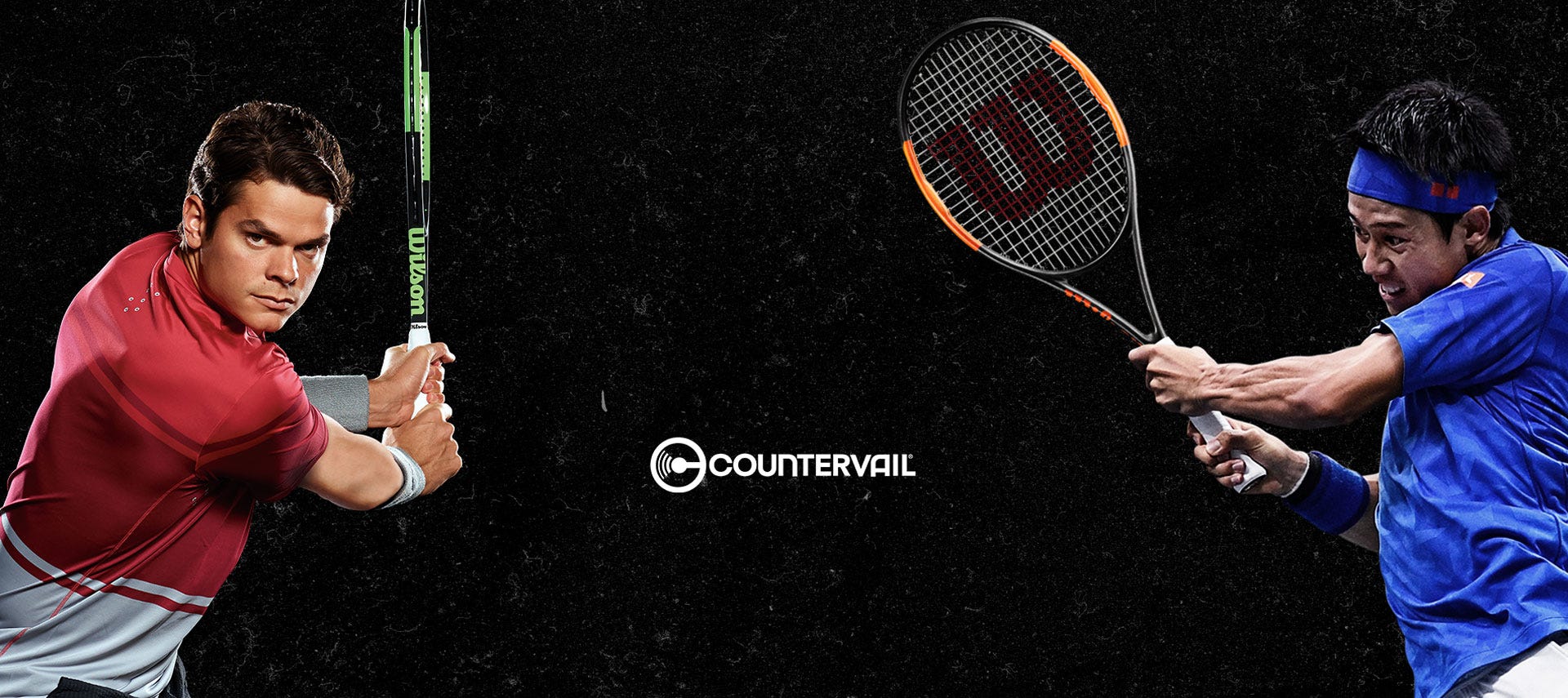 ---
FreeFlex
A revolutionary technology that makes Clash the world's first racquet intentionally engineered to bend with any swing style. Both traditional, horizontal strokes and modern, vertical ones are enhanced through proprietary carbon mapping, allowing players to swing freely and confidently with maximum ball pocketing and ultimate control.

---
High Performance Carbon Fiber
Developed for aggressive swings, this premium modulus carbon graphite provides increased frame stiffness for explosive power. Current racquets made of this material are highly aerodynamic which can increase swing speed and plow through.
---
Hyper Carbon
Hyper Carbon™ is a space age material used primarily by the aerospace industry and has been used effectively in the tennis world with Wilson's line of Hyper Carbon Racquets. Hyper Sweet Spot technology enables a bigger sweet spot for all carbon coded racquets which in turn provides the perfect amount of additional power needed to effectively improve one's game. Hyper Carbon is said to be four times stronger, four times stiffer, and 65% lighter than titanium. Racquets in this line includes two main layers of Hyper Carbon, and five layers of solid Graphite.
---
Parallel Drilling
With this technology, Wilson drills grommet holes parallel to the strings rather than at an angle. This increases the string movement allowing for a bigger sweet spot, improvement in sensitivity, and added comfort. These factors assist players with having more consistent rallies and greater power potential with each shot.
---
PowerProfile
Wilson's longstanding PWS, or Perimeter Weighting System, was updated for the launch of the v3 Ultra racquets. Now known as Integrated PWS, the update takes the volume of the previous technology, and blends it over a larger area. The result is more power from a slightly expanded string bed.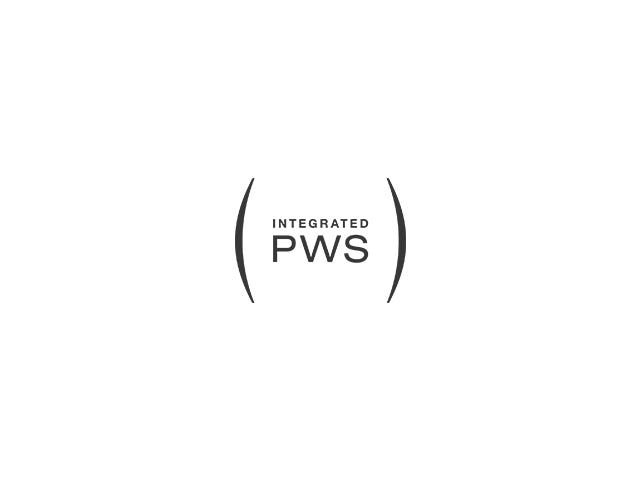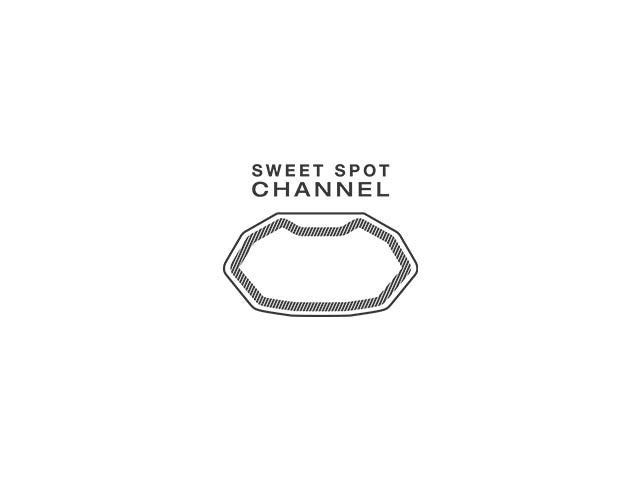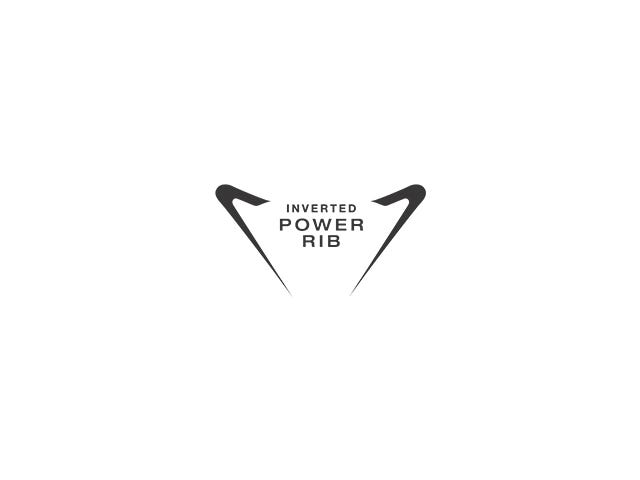 Wilson's new Sweet Spot Channel presents a cavity on the inside of the 3 and nine o'clock positions on the racquet head. The cavity extends the cross strings length by 3.5 mm for more explosive contact.
Wilson's Crush Zone Grommets compress at contact with the ball, and they increase dwell time on the stringbed for more power.
---
Pro Staff Next Generation
The sport of tennis is always evolving. Developed with the help of Roger Federer and engineered for the next generation of tennis, the new Pro Staff delivers more power, a larger headsize and a bigger sweetspot, but keeps the pure, classic feel that players love.
Pro Staff Racquets are going to counter its technological, opposite Hammer, which was head heavy. The Pro Staff is coupled with a light weight and a head light balance to create a traditional sweet spot. Weight in these racquets are distributed throughout the frame and balanced towards the handle. This produces a frame with traditional weighting for solid feel, and great maneuverability. The traditional sweet spot is great for players who prefer a less powerful, more control-oriented racquet.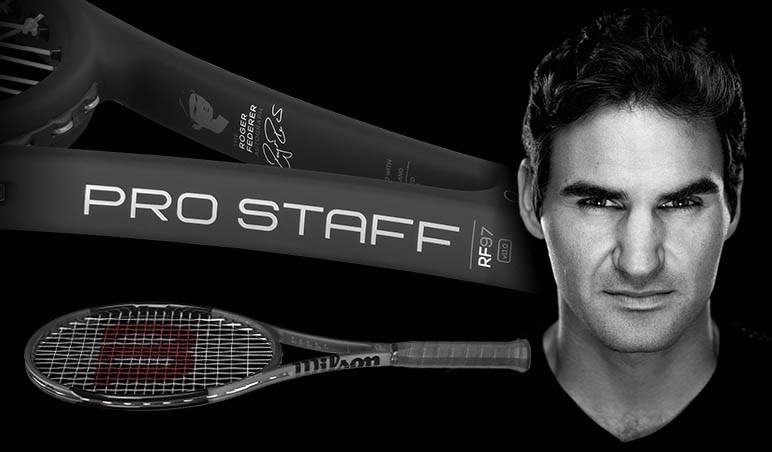 ---
Spin Effect
The most dominant aspect of tennis today is not power, but spin. Spin allows for more controlled power, and also opens up areas of the court a flatter ball may not be able to reach. Wilson set a goal to help players increase spin without changing their swings, and the result was Spin Effect Technology.
While it sounds simple, Spin Effect Technology was a serious, involved project, and the end result was an optimal string pattern to produce maximum spin. Through this process, Wilson determined that the string pattern necessary to produce the optimal coefficient of friction in the string bed was 16 main strings and 15 crosses. As a result, the strings have 3.3 times more movement and 69% more "snap back," or recoiling of the strings before the ball leaves. This adds up to 200 RPMs to the player's shot which, according to Wilson, is like lowering the net by two inches and making the court a foot longer. With a larger "effective" court, players will have more margin for error and added control on their shots, in addition to an expanded number of target areas to play to.
Wilson has determined that the best type of strings to use for the best results in Spin Effect racquets are monofilament strings – like Luxilon 4G – which have greater "snap back" qualities of their own. The first racquets to take advantage of Spin Effect Technology are the 2013 Steam 99S and 105S.
---
StableSmart
Simulation assisted geometry designed to give best-in-class stability while allowing the frame to move in pre-specified dimensions. Incorporated is a Dynamic Stability X-Section Technology which maintains high-end stability with dynamic flex. Simply put, players can swing big and have confidence while the racquet takes control.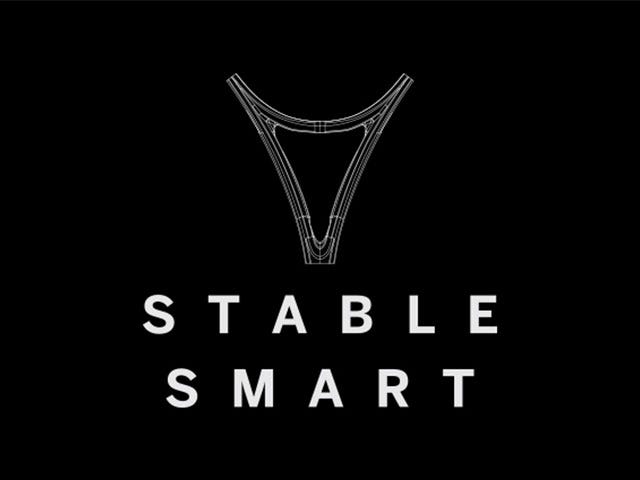 ---
Triad
Since the beginning of tennis, players have searched for three things in a racquet - power, comfort, and control. But they've only found compromise, because every racquet ever played with prior to the Triad Series has been designed as a one-piece unit. The traditional one-piece design always minimizes one critical playing characteristic when attempting to maximize another.

Not only can you maximize power in the head of the racquet and control in the handle, you can isolate shock and prevent it from reaching the arm. For the first time ever, you can design a racquet that didn't compromise and fulfill the player's search. Introducing TRIAD™, a revolutionary tri-component design that maximizes power, control, and comfort without compromising one for the other.

The hoop and the handle of a TRIAD racquet are designed as customized components. They never touch. Wilson buffers them with Iso-Zorb™, an exclusive polymer similar to the material used in skyscraper foundations to absorb the shock of an earthquake. This design breakthrough delivers a level of performance impossible in an ordinary one-piece racquet.
---
X2 Ergo
Engineered for today's modern play, the X2 Ergo Grip Booster combines a longer handle for increased feel and leverage on two-handed backhands. With a more round and narrow shaft this enables quick grip changes during play. Players can customize the grip to their playing style and have a more comfortable backhand.